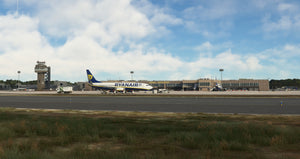 Brand new RDPresets Airport! Girona–Costa Brava Airport
 (
LEGE
) (
Aeroport de Girona-Costa Brava
 is an airport located 12.5 km southwest of the city of Girona, next to the small village of Vilobí d'Onyar, in the north-east of Catalonia, Spain. The airport is well connected to the Costa Brava and the Pyrenees. Girona Airport is used as an alternative airport for Barcelona as well, even though the airport is 74 km north of the center of Barcelona.  Serving more than 2 million in 2019.
The airport serves as a focused airport for airlines such as Ryanair, Transavia, TUI, Jet2.  With many other airlines flying to and from Girona Airport on a daily basis including airlines such as LOT, Brussels Airlines, Smartwings and more!
We have created a very highly detail version of Girona Costa Brava Airport and the surrounding area with all of the latest technologies when it comes to 3D modelling and scenery development. We have focused on great performance together with very high detail including a interior and custom ground and building modeling covering the whole airport including landside.

• Realistic replica of LEGE Girona Costa Brava Airport
• Completely custom modelling and texturing with PBR textures on the whole airport
• More than 1000+ clutter objects on the apron and surrounding area's
• Custom ground textures, faithfully recreating the asphalt differences like reality
• Performance optimizations
• Accurate night lighting
• Custom taxiway signage
• Ground traffic

Available since
2022-10-11
Version
v1.0.0
Supported Simulators
for Microsoft Flight Simulator
Supported Operating System
Windows
Installation Method
Contrail App
Download Size
2.57 GB
Installation Size
5.75 GB
Reviews
Reviews can be written and liked using the
Contrail App
Review by Anonymous
for Microsoft Flight Simulator
Framerate sometimes falls down to low 20s before going back to normal, don't have this issue with MK one.