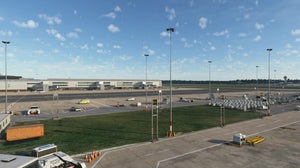 Birmingham Airport (EGBB), previously known as Elmdon Airport, opened in 1939 with its first flights being to and from Glasgow, Liverpool and Croydon. 
During the second World War, this airport was used as a Royal Airforce Training site until 1949 when British Airways was the first to begin commercial services again to destinations such as Amsterdam, Zurich, Palma and Barcelona.
Currently, EGBB is the seventh busiest airport in the United Kingdom, with it previously being the home to FlyBe who recently went into administration.
The airport boasts a unique runway with multiple dips and humps, which makes watching an Emirates A380 rolling down the runway and amazing sight!

• PBR textures created from scratch and used throughout the airport
• Custom Taxi Lines
• Custom models developed specifically for MSFS2020
• Accurate and custom night lighting +Additional immersive lighting such flashing lights
• Accurate approaches and ILS Glide Slopes
• Runway warning lights (wig-wags)
• Free future updates
• Custom Jetways
• Latest VATSIM compatible taxiways, ground markings and taxiway signs based on latest charts

Available since
2021-06-22
Version
v1.1.0
Supported Simulators
for Microsoft Flight Simulator
Supported Operating System
Windows
Installation Method
Contrail App
Download Size
703.9 MB
Installation Size
703.9 MB
Reviews
Reviews can be written and liked using the
Contrail App
Review by Okay but just okay.
for Microsoft Flight Simulator
I purchased this airport addon knowing it was not yet completed. The price is about right for what is offered.
Pros:
+ Gives a better representation of Birmingham than the default sim airport with buildings and main objects in their correct place.
+ Runway slope looks accurate.
+ Overall feeling of the airport is captured well.

Cons:
- Buildings are what I would describe as FSX quality. No modern texturing or material techniques used.
- Some very boxy objects. A lack of finesse.

Worth the price if you need EGBB in your sim right now, as I did. I hope this addon evolves into a higher quality scenery.
Review by Anonymous
for Microsoft Flight Simulator
Not very good.

Missing a lot of surrounding buildings such as hotels etc and what is there, is not to the standard you expect for MSFS these days.

I really hope someone else makes a version of BHX or the this developer gives it significant update.
Review by jay plunkett
for Microsoft Flight Simulator
nice airport,does the job for those needing it. i have random trees along taxiway to rwy 15 so was quite annoying im sure there is a way to fix this issue but all in all nice product