New Releases
Discover our latest aircraft and airport add-ons for Microsoft Flight Simulator.
Every add-on at Contrail is carefully selected to enhance your flight simulation experience with unparalleled quality.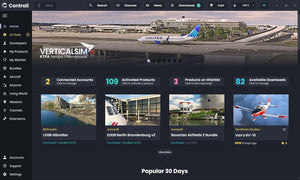 Get the Contrail App
Manage your favourite flight simulation add-ons in one place.
Contrail for Windows combines the webshops of well-known developers into one, sleek desktop application.
Download Now
Popular Products
Explore our most popular add-ons for Microsoft Flight Simulator 2020.
Thousands of customers rely on Contrail for add-ons that meet high flight simulation standards.