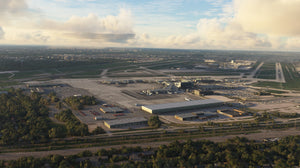 Experience the thrill of flying into one of Canada's busiest and most iconic airports with the Montreal-Pierre Elliott Trudeau International Airport (CYUL) scenery addon for Microsoft Flight Simulator. This meticulously crafted addon transforms your virtual aviation experience, immersing you in the vibrant heart of Montreal and providing an unprecedented level of detail and realism.
The airport serves as a major hub for Air Canada, the country's largest airline, as well as a significant base for other regional and international carriers. The airport's surroundings offer breathtaking views of the St. Lawrence River and the scenic landscapes of Quebec.
Highly detailed and realistic rendition of Montreal-Pierre Elliott Trudeau International Airport (CYUL)
Airport elevation data based on high quality LiDAR scan
Custom, 20cm/pixel satellite image covering the airport and the closest surroundings
Custom ground polygons with thousands of lines, markings and dirt
Handcrafted 3D models of buildings, jetways, and airport facilities
Realistic lighting for immersive day and night operations
AI compatible
Available since
2023-07-31
Version
v1.2.0
Supported Simulators
for Microsoft Flight Simulator
Supported Operating System
Windows
Installation Method
Contrail App
Download Size
2.33 GB
Installation Size
3.88 GB
Reviews
Reviews can be written and liked using the
Contrail App
Review by Must buy
for Microsoft Flight Simulator
I owned the FlyTampa version in P3d and this is one of my favourite airports as gateway from Europe to North America and plenty of short and long haul destinations to fly to.
It was a must buy from the day it was released. No issues so far on performance but that may change in lower clouds with winter coming along.