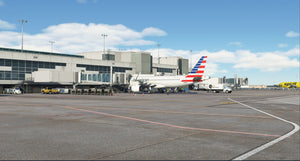 This addon replaces the default airport jetway within Microsoft Flight Simulator with a more detailed and complex jetway that has more details, sounds, lights.
The jetway is modeled after a glass type jetway which will replace ALL MSFS default airport jetways. This addon won't replace jetways from customized airports packages that don't use the default jetway.
This addon does not modify the placement or location of jetways on the FS world. Where there is a default jetway, this addon would replace it.
Enhance your FS world with this extremely realistic jetway!
• Ultra-realistic modeling
• 
HD PBR texturing
• 
Advanced lighting
• 
Realistic sounds
• 
Improved animations
• 
LOD models that allow for great visuals at no performance cost.
Available since
2021-10-19
Version
v1.0.0
Supported Simulators
for Microsoft Flight Simulator
Supported Operating System
Windows
Installation Method
Contrail App
Download Size
88.9 MB
Installation Size
444 MB
Reviews
Reviews can be written and liked using the
Contrail App
Review by Philip
for Microsoft Flight Simulator
Often missing parts of the jetway - uninstalled.
Review by Pete
for Microsoft Flight Simulator
I like this addon but the sound is horrendous.
Review by Samuel
for Microsoft Flight Simulator
Very good mod! Definitely worth the money. It makes airports have a little more life to them. And the sounds are great as well. My only complaint is that it partially breaks jetways at some handcrafted airports (namely KJFK). The part that connects to the aircraft appears, but the rest of the jetway after the first "joint" -if you want to call it that- is missing. I imagine this will be fixed?

Overall, really good. Would recommend.
Review by Steven Walker
for Microsoft Flight Simulator
Very good mod to replace the standard Asobo jetways. Some complain about the sound but the sound does not bother me. I had rather have sound than no sound. Since I have never worked at an airport for all I know the sounds might be 100% accurate. There are some disjointed jetways. (The exception and not the rule) but it is possible the jetways faults are part of some of the strange AI in MSFS and possible not the fault of the creator. Regardless, this is a good purchase.
Review by BritishAvgeek (Luke)
for Microsoft Flight Simulator
Really good addon significantly improving the default jetways to some rather good looking ones! The sounds are good, though the only thing I'd like to see is the bell noise being a bit less noisy (the ones at Heathrow IRL are softer beep-beep types).

Must have addon for sure to improve the look of the default airports and at a great price point too.
Review by rickieb74
for Microsoft Flight Simulator
This is a "must have for MSFS" BUT one issue I do not like about it at all is when the jetway is called or returned it makes a horribly loud obnoxious metal screeching LOUD noise. Quite annoying and not needed. Need to just get rid of that sound. It's not needed. The motor for moving it is just fine and all is necessary. Scenery wise it's terrific. I do see that it is dragging a ladder, but really, turn off that metal sound!