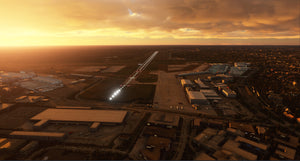 The sim-wings Hamburg DLC offers an incredibly realistic scenery of Hamburg Airport and the immediate vicinity.

Elaborately color-corrected aerial photos for a true color display and a realistic 3D ground with elevated Lufthansa maintenance, lowered highway and half covered highway makes Hamburg Airport appear very lifelike. The extremely detailed airport buildings with interiors and all auxiliary buildings support this aspect.

Also included are the new "Interim Terminal" and new stands placed using ground maps from the airport operator. Thanks to the animated jetways and the realistic night time dynamic lighting, the airport seems very lively.

Fly to Hamburg Airport today and experience the realism of sim-wings Hamburg in the Microsoft Flight Simulator!

• Highly detailed scenery of Hamburg Airport and the immediate vicinity
• Realistic 3D ground with elevated Lufthansa maintenance, lowered highway and half covered highway
• Sloped runways according to aeronautical charts
• Aerial photo for the airport and the surrounding area, elaborately color-corrected for a true color display
• Detailed ground lines and stands
• New "Interims Terminal" and new stands according to ground maps of the airport operator
• Extremely detailed Hamburg airport buildings with interiors and all auxiliary buildings
• Lufthansa maintenance area
• Animated jetways
• Many static apron vehicles
• Realistic night time dynamic lighting
• MSFS SDK materials (PBR)
Available since
2021-04-16
Version
v1.0.2
Supported Simulators
for Microsoft Flight Simulator
Supported Operating System
Windows
Installation Method
Contrail App
Download Size
1.74 GB
Installation Size
2.64 GB
Reviews
Reviews can be written and liked using the
Contrail App
Review by Hugo J
for Microsoft Flight Simulator
Amazing addon, great textures, the jetways are just incredible, same for the very detailed runways. I only miss some wear on the taxiways lines, but it's perfect! Well done SimWings!
Review by Hector F.
for Microsoft Flight Simulator
This is a must have addon for MSFS 2020. It is a very realistic and beautiful airport and it looks like Sim-Wings have improved this scenery since I first bought it after update 6 because it has more details for greater immersion. It is absolutely worth the cost!
Review by Anonymous
for Microsoft Flight Simulator
The jetways do not work, and according to a thread on the Aerosoft forum, they haven't worked for a year+. Buyer beware on this one.
Review by Twinfinite.net
for Microsoft Flight Simulator
Sim-Wings' Hamburg airport is a great add-on for Microsoft Flight Simulator. It does have a few flaws that I'd like to see corrected, but they don't detract much from the overall quality and scope on offer.

If you like flying airliners in Germany, this rendition of EDDH could be easily be defined asa must-have, especially considering the fact that it brings an absolutely massive improvement over the default version of the scenery in Microsoft Flight Simulator.