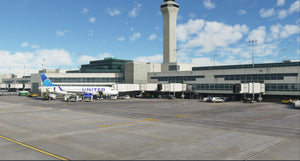 Airport Regional Environment X: North America
This addon replaces the stock/default ground service vehicles as well as the airport vehicle traffic for the thousands of airports across North America to fully enjoy a more realistic environment with vehicles common to the area. The ground service vehicles and catering trucks have logos for the most important ground handling and catering companies.

• Replacement of ground services vehicles with customized and more realistic for the region at ALL airports in North America (Continental US and Canada).
• Select from 9 Airlines: American, Air Canada, Delta, United, Jetblue, Spirit, Alaska, West Jet and Frontier. (not available on the MS marketplace)
• Customized sounds of the different engines and animation situations.
• Different logos for the companies that provide airport services in North America.
• Realistic catering truck used in the region, with the logos of the most important airport catering companies.
• Customized push back truck depicting regional companies.
• Customized and regional types of vehicle traffic, that make the airport environment more realistic and according to vehicles used in the region.
• Uses the default system of calling ground services, no external apps or files needed.
• No negative impact on performance.
Available since
2021-02-18
Version
v1.0.2
Supported Simulators
for Microsoft Flight Simulator
Supported Operating System
Windows
Installation Method
Contrail App
Download Size
330.8 MB
Installation Size
790.7 MB
Reviews
Reviews can be written and liked using the
Contrail App
Review by Sidestick/Yoke
for Microsoft Flight Simulator
Meh, visually it looks good. Everything works, problem is vehicles drive on taxiways all the time and all over the place. Customer service is non existent.
Review by Jay
for Microsoft Flight Simulator
Review by Skyace2018
for Microsoft Flight Simulator
I love this plugin. No Performance issues and enhances the experience. Thanks.
Review by UAL4752
for Microsoft Flight Simulator
Usually I would rate their products 5/5, in this case i give it a 0/5. Admittingly I purchased through fs2020 in game marketplace, no documentation at all provided, nothing found online and not even on their own website. Purchased product, shows installed. Does not work, worst support ever.
Review by Joseph S.
for Microsoft Flight Simulator
AREX is such an amazing little addon. It adds much appreciated immersion to the sim. Especially when you get it NOT from the Microsoft Store. Love this 10/10, would recommend. If you're on the fence, this is a well worth it purchase.
Review by Tom Jones
for Microsoft Flight Simulator
Review by paulhunterhavelock
for Microsoft Flight Simulator
Fantastic Enhancement for MSFS
Review by A good product but a few issues
for Microsoft Flight Simulator
The product itself is good, you get custom service vehicles for north american airports. The problem is, if you happen to configure the addon to use one of the available airline liveries (other than default one) baggage carts don't work. The same problem was in the south american version, but there they fixed it. I hope one day it get fixed here too.