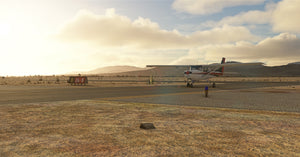 This sound set completely overhauls the default Cessna 152 sounds using hours of professional recordings with high fidelity equipment. It is made to work with the Microsoft Flight Simulator Cessna 152 and 152 Aerobat, and is fully compatible with the great freeware JPL/WBSim 152 mod. Some features of this sound set include:
Engine sounds reacting to many factors, such as oil temperature, speed, and altitude
Equipment and gyro sounds
Multi stage stall-horn and stall howl
Accurate ground roll and touchdowns
and more.
This is not just a copy and paste of the 172 - but a completely unique aircraft with a different engine, and sound insulation. Please feel free to ask for support and suggestions through email via boris.vanian@gmail.com. We hope this sound addition will make your Cessna 152 flights more thrilling!
Available since
2023-11-16
Version
v1.0.0
Supported Simulators
for Microsoft Flight Simulator
Supported Operating System
Windows
Installation Method
Contrail App
Download Size
99.5 MB
Installation Size
102.8 MB