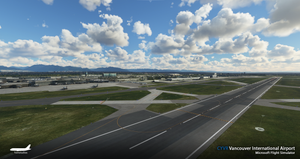 Vancouver International Airport (IATA: YVR, ICAO: CYVR) is an international airport in Richmond, British Columbia. It is located 12 km (7.5 mi) from Downtown Vancouver. It is the second busiest airport in Canada by aircraft movements (306,799) and passengers (25.9 million), behind Toronto Pearson International Airport. It is often described as a trans-Pacific hub, with more direct flights to China than any other airport in North America or Europe. It is a hub for Air Canada and WestJet, and an operating base for Air Transat. Vancouver International Airport is one of eight Canadian airports that have US Border Preclearance facilities. It is also one of the few major international airports to have a terminal for scheduled floatplanes. (Source: Wikipedia)

• Most up to date and detailed representation of Vancouver International Airport created for Microsoft Flight Simulator.
• Outstanding modeling, 4K PBR Textures, and great attention to detail.
• 0.3cm/pix custom aerial orthophotos for the airport area.
• Static Commercial and GA Aircraft.
• PBR Native Ground Polygon.
• Native MSFS SDK Jetways
• Native snow, rain effects and vegetation
• Three airports included: CYVR Vancouver International, CAM9 Vancouver Seaplane Terminal, CYHC Vancouver Harbour.

Available since
2021-10-06
Version
v1.2.5
Supported Simulators
for Microsoft Flight Simulator
Supported Operating System
Windows
Installation Method
Contrail App
Download Size
3.88 GB
Installation Size
5.63 GB
Reviews
Reviews can be written and liked using the
Contrail App
Review by Papa Golf
for Microsoft Flight Simulator
I had FSDreamteam CYVR, but wasn't overly happy with it. CYVR is a wonderful airport to fly to as the approaches from east or west are stunning. I picked up FSimStudios CYVR in a sale and am glad I made the swap. For me, FSimStudios have modelled the ground and terminal textures more authentically. Night lighting is great and overall the airport just feels more 'realistic'. Performance is good, I've not noticed any issues.
Review by Anonymous
for Microsoft Flight Simulator
Overall really nice scenery, ground textures could do with a slight upgrade but other than that it's excellent! Slight FPS impact but nothing major.
Review by R.Slade
for Microsoft Flight Simulator
The airport looks good from what I can see but unfortunately, unusable as I get massive FPS drops below 20. I have the same problem at DD's Chicago Midway. The airport sends my VRAM well above 8Gb.