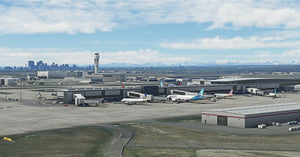 Calgary International Airport, located in Calgary, Alberta, Canada, is a bustling transportation hub and one of the busiest airports in the country. Situated approximately 17 kilometers northeast of downtown Calgary, the airport serves as a gateway to both domestic and international destinations. It is the largest airport in the province of Alberta, Canada and fourth-busiest in Canada by passenger traffic.
Calgary is home of Westjet and Low-Cost carrier Lynx Air, focus city for Air Canada, and home of the main manufacturing plants of Viking, where Twin Otters and CL-415s are manufactured. Calgary also hosts the longest runway in Canada, as well as the tallest control tower in Canada.
Airport & City Features:
FSimStudios Premium Quality: Extremely accurate and detailed rendition of Calgary International Airport for MSFS
Sharp, High-Resolution texturing
Fully detailed terminal interiors in piers A, B, C, D and E
Realistic night lighting
Calgary Tower Included. More downtown buildings coming soon (The Bow, new Telus Tower)
Crossiron Mills and New Horizons Mall modeled on approach to RWY17 L/R
Fully Detailed Twin Otter manufacturing plant
Optimized for excellent performance.
Special Features:
GSX Profile with animated deicing pads (GSX Required)
Air Canada Maintenance Hangars are dynamically animated – doors open and close based on time of the day and weather conditions.
Stampede Fireworks Show: During July, from 11PM to Midnight, a fireworks show can be seen on approach to RWY35 L/R
Functional VDGS (coming on V1.1)
Free Gift: Kenn Borek DC3 Livery
Product Configurator, that allows deactivation of static aircraft, ground service equipment and clutter, terminal interiors, etc.
Notes:
Installing World Update Canada is strongly recommended
Terrain Level of Detail is recommended between 60-70 for improved performance
Object Level of Detail is recommended between 100-150 for improved visuals
Available since
2023-05-25
Version
v1.1.0
Supported Simulators
for Microsoft Flight Simulator
Supported Operating System
Windows
Installation Method
Contrail App
Download Size
4.49 GB
Installation Size
7.06 GB
Reviews
Reviews can be written and liked using the
Contrail App
Review by excellent work
for Microsoft Flight Simulator
I have all products from Fsimstudios. You can buy their airports with your eyes shut. Highly recommend it. I love the configuration page where you can shut off some items, specifically airport terminal interiors. Thanks Fsim
Review by Anonymous
for Microsoft Flight Simulator
Great scenery ! Dev is quick to push update !!
Review by Anonymous
for Microsoft Flight Simulator
Review by Grayden
for Microsoft Flight Simulator
This is by far their best work yet. Amazing work guys !