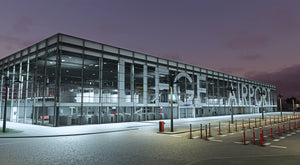 Liege Airport
 (IATA: LGG, ICAO: EBLG), previously called Liege-Bierset Airport, is an international airport located 5 nautical miles west of the city of Liège, Wallonia in
Belgium
. The airport mainly focuses on air freight. At the end of 2021, freight traffic reached 1,412,498 tonnes (+26%). Liege Airport is now the
5th biggest cargo airport
in Europe and the 22nd biggest in the world.
The airport is located in Grâce-Hollogne, Liège Province, north-west of the city of Liege, in the east of Belgium. The first terminal on the site opened in 1930.
It is mainly used for freight/cargo operations, but also serves a number of destinations for passengers (mainly charters). Liege is located in the centre of the golden triangle Paris – Amsterdam – Frankfurt that handles 66% of European freight, and 75% when taken together with London. In 2018, it was the seventh biggest cargo airport in Europe. Liege Airport is the biggest cargo airport in Belgium, and the third-biggest for passengers after Brussels Airport and Brussels South Charleroi Airport. It is the
global hub of ASL Airlines
Belgium (the former TNT Airways) and is also used by several other cargo carriers on a scheduled or irregular basis.
Accurately modeled terminal and interior

Integrated real world matching elevation model

Custom night lighting
Custom parking positions matching with real life
Custom surroundings
Custom people and animated objects
PBR Materials
Available since
2023-04-16
Version
v1.4.2
Supported Simulators
for Microsoft Flight Simulator
Supported Operating System
Windows
Installation Method
Contrail App
Download Size
1.96 GB
Installation Size
6.13 GB
Reviews
Reviews can be written and liked using the
Contrail App
Review by Anonymous
for Microsoft Flight Simulator
Horrible lag when looking at pax terminal.