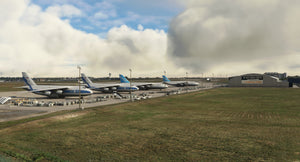 Leipzig/Halle Airport
is an international airport located in Schkeuditz, Saxony and serves both Leipzig, Saxony and Halle, Saxony-Anhalt.
It is Germany's 11th largest airport by passengers and handled more than 2.61 million passengers in 2019 mainly with flights to European leisure destinations. In terms of cargo traffic, the airport is the fifth-busiest in Europe and the second-busiest in Germany after Frankfurt Airport, having handled 1,238,343 metric tonnes of cargo in 2019.
• Detailed airport objects and vehicles
• 
Photorealistic PBR textures on the airport buildings
• 
Custom textured taxiways, runways and apron
• 
Many detailed airport vehicles.
• 
Animated custom jetways
• 
Custom bridges over the highway
• 
Custom 3D models of vegetation and trees.
• 
Static cargo planes on aprons.
• 
Advanced night lighting
• 
The actual state of the Leipzig-Halle airport
Available since
2021-11-15
Version
v1.3.0
Supported Simulators
for Microsoft Flight Simulator
Supported Operating System
Windows
Installation Method
Contrail App
Download Size
549.8 MB
Installation Size
1.6 GB