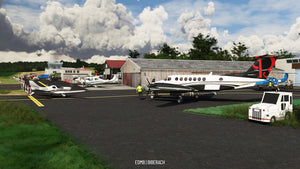 Welcome to the Biberach EDMB airfield in Baden-Württemberg. Biberach is beautifully located in the heart of Upper Swabia near the Federsee and to the Swabian Alb at an elevation of 1903 ft (580 m) and a fantastic destination for VFR pilots. From the airfield you can quickly get to Biberach or Ulm by rental car or bicycle.
From the original site, which had only a grass runway for gliders, the runway was asphalted in 1999 and then finally in 2005 the runway was extended to 1200 m. The runway itself has the alignments northeast with RWY04 and the runway southwest with RWY 22 and has the dimensions 980 m x 23 m.
The circuit of Biberach is located at 2700 ft MSL (Main Sea Level) and the radio frequency is 120.535. Especially you should know and consider the approach and departure procedure of the airfield due to noise protection.
The airfield is located just under 2 km from the city of Biberach in the northwest and is approved for takeoffs and landings up to a maximum weight of 5700 kg. The fuel station includes all forms of fuel such as AVGAS, MOGAS as well as JET A-1 and thus offers maximum flexibility.
There is the Motorflugverein LSV Biberach e.V. with about 90 active members and owns several single engine aircraft.
South of the asphalt runway is a glider runway, which is operated by the glider group of the Luftsportverein Biberach e.V. with both winch and aerotow. A cosy restaurant with a terrace and a view of the flying action rounds out the airfield as an excursion destination for non-pilots as well.
Every building as well as the tower and the restaurant at the airfield were modelled on the original down to the last detail - for this purpose the airfield was flown to in real life and many detailed photos were taken
Close cooperation with the airfield operator on site to create an atmosphere like in reality - special thanks to Reinhard Schüssler for drone shots of the airfield and the air traffic control.
The approach sector was recreated in detail
Original VFR charts and approach sheet from EDMB by courtesy of "Deutsche Flugsicherung"
Available since
2023-02-16
Version
v1.0.0
Supported Simulators
for Microsoft Flight Simulator
Supported Operating System
Windows
Installation Method
Contrail App
Download Size
1.07 GB
Installation Size
2.62 GB