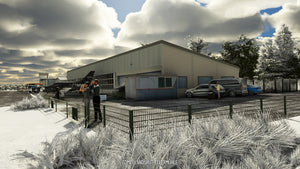 Welcome to the commercial airfield Landshut-Ellermühle EDML in the heart of Bavaria.
Landshut is located northeast of Munich Airport EDDM next to Moosburg at an altitude (elevation) of 1312 ft (400 m above MSL). The runways are aligned to the east with RWY 07 and the runway to the west with RWY 25 with a runway length of 900m and 23m width.
After five years of planning, the construction of the airfield was started in 1961, and officially the airfield was opened on August 26, 1962.
The air sports club Landshut then began flight operations with a single hangar and a grass runway, and later in 1967 a restaurant and a tower were added. Since 2002, the municipal utility company of Landshut is the owner of the airfield and the "Landen in Landshut GmbH" is the official operator. The airfield has had an intense past with airfield opponents, but fortunately it could be preserved and also modernized until today. The airfield is an uncontrolled airfield without control zone - due to the proximity to the airspace Charlie of Munich control zone with 3500 ft the approach as well as departure must be made here with special care and attention - the airfield round height is 2500 ft MSL as north airfield round. Special attention must also be paid to the localities and noise regulations during departure.
There is now a modern tower that has been put into operation as well as hangars, Construction buildings and a restaurant with culinary delights. There are also rental bicycles on site to explore the wonderful city of Landshut.
Our Landshut airfield is the perfect complement to Bavarian Airfields Vol.1, which includes the neighboring Moosburg airfield.
Every building as well as the tower and the restaurant at the airfield was modeled after the original down to the last detail - for this the airfield was flown to in real life and many detail shots were taken
Close cooperation with the airfield operator on site to create an atmosphere like in reality - special thanks to the airfield operators of Landshut for the information, photos and drone shots.
The approach sector around the airfield was recreated in detail with streets, stadium and highway as well as solar fields.
Original VFR charts and approach sheet from EDMB by courtesy of "Deutsche Flugsicherung"
Available since
2023-02-16
Version
v1.0.0
Supported Simulators
for Microsoft Flight Simulator
Supported Operating System
Windows
Installation Method
Contrail App
Download Size
1.18 GB
Installation Size
2.8 GB