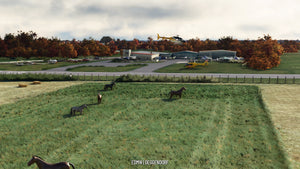 The airfield Deggendorf EDMW is an uncontrolled special airfield, i.e., there is a radio frequency 122.030 with takeoff and landing recommendations. The airfield is located about 5km from the city of Deggendorf. It is operated by the air sports club Deggendorf-Plattling. North of the airfield the best landmark is the Donau with its bridges.
In 1966 the airfield officially received its approval as a special landing field and from 1971 the buildings were erected. In 1976 the airfield received an asphalt runway.
The dimensions of the runway are 550m x 15 m with the orientations 09 and 27. The airfield is located at 1030 ft (314 m) and contains a gas station for avgas and mogas, a restaurant with a beer garden, a tower and hangar buildings.
The airfield is designed for gliders and powered aircraft up to 3500 kg maximum take-off weight (MTOW), helicopters up to 5700 kg and is PPR, so can be used on request.
VFR flights can be combined here wonderfully eastward to Vilshofen or northwestward to Regensburg Oberhub and Herzogenaurach.
Our places of ClearPropStudios are chosen in such a way, that the most beautiful VFR places in Bavaria and Baden-Wuerttemberg form an overall experience after the model of the real flying.
Every building as well as playground and refuelling facility at the airfield has been modelled after the original down to the last detail
Close cooperation with the airfield operator on site to create an atmosphere like in reality
Sophisticated night lighting
The approach sector was recreated in detail
Original VFR charts and approach sheet from EDMW courtesy of German Air Traffic Control
Available since
2023-02-16
Version
v1.0.0
Supported Simulators
for Microsoft Flight Simulator
Supported Operating System
Windows
Installation Method
Contrail App
Download Size
1.03 GB
Installation Size
2.48 GB