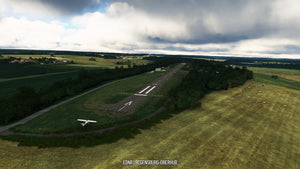 The airfield Regensburg-Oberhub [ICAO: EDNR] is a developed commercial airfield 16 km north of Regensburg. The airfield is operated by the Motorfluggruppe Regensburg e.V.
The airfield is located at an altitude of 1298 ft (396 m) and has the radio frequency 120.430. The asphalted runway is 645 m long, has a landing light for night flight and 15 m wide and has the alignments 10 and 28 - eastward with a gradient.
The airfield was established in 1960 and initially had only a grass runway of about 400 m. Gradually in the 60's a clubhouse, an aircraft hangar and a gas station were built - here you can get AVGAS and MOGAS. In 2021 the runway was restored and extended. There is also a local flight school through the flight sports group.
The airfield is approved for all aircraft up to 2000 kg maximum take-off weight (MTOW), helicopters require an extra permit. Due to the landing lights, the airfield can also be approached at night according to PPR regulations (prior notification).
The airfield has an incredible charm with the buildings and the small cosy restaurant. Here an elderly lady cooks in a small cosy kitchen probably the best homemade Schnitzel, still originally breaded and in a frying pan on the stove - and that at sensationally fair prices. When visiting the place, you can have nice conversations with the resident pilots and club members and enjoy the idyll of this higher situated place.
Even if it is a bit far from Regensburg itself, this place is a true general aviation pearl and definitely worth a visit.
Every building as well as playground and refueling facility at the airfield has been modeled after the original down to the last detail
Close cooperation with the airfield operator on site to create an atmosphere like in reality
Sophisticated night lighting
The approach sector was recreated in detail
Original VFR charts and approach sheet from EDMW courtesy of German Air Traffic Control
Available since
2023-02-16
Version
v1.0.0
Supported Simulators
for Microsoft Flight Simulator
Supported Operating System
Windows
Installation Method
Contrail App
Download Size
1.1 GB
Installation Size
2.63 GB