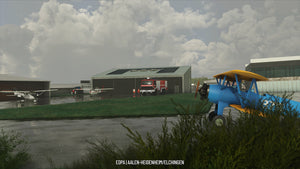 The commercial airfield Aalen-Heidenheim is located 15 km southeast of Aalen, BadenWürttemberg. Owner and operator of the airfield is the association Luftsportring Aalen e.V., which meanwhile has more than 560 members. On 07.03.1954 the airfield was used for the first time by pilots from Aalen. In the following years the airfield was developed into a real airfield with a lot of love, work and effort as well as hard work of the members.


The airfield is located at an altitude of 1916 ft (584 m) and has the radio frequency 121.405. Aalen is considered an uncontrolled airfield, even if the tower gives the clearances - these are purely legal recommendations, but in practice they should be adhered to. EDPA does not have its own control zone at this airfield.
The asphalt runway has a length of 1000m x 30m asphalt and has the runway alignments 09L to the east and 27R to the west. The runway is approved for a maximum take-off weight of 10000kg, so it is also suitable for heavier aircraft. In addition, there is a grass runway 09 R and 27L, also with 1000 x30 m, for gliding, which is very active in Aalen.


The Aalen-Heidenheim airfield is also home to the Aalen Elchingen Flying Museum. Here, numerous gems from civil aviation can be admired. Among them are a De Havilland DH83 Fox Moth, De Havilland Dragon Rapide, an Antonov An-2, a Texan T6 and a Beechcraft 17 Staggerwing. The museum is definitely worth a visit and is a great destination for GA pilots.


Numerous maintenance facilities are also located in Aalen and are certified maintenance facilities for many flying clubs and flight schools. For example, many machines of the flight school Jesenwang are maintained in Aalen.
Aalen also has a cozy restaurant with a beautiful terrace and stunning views of the runway-it's not for nothing that Aalen is considered one of the most beautiful commercial airfields in all of Germany.
Every building as well as the refueling system and the restaurant at the airfield were modeled on the original down to the last detail- for this purpose the airfield was flown to several times in real life.
The different altitudes and terrain shapes were authentically recreated.
Close cooperation with the airfield operator on site to create an atmosphere like in reality.
The approach sector was recreated in detail
Original VFR charts and approach sheet from EDMW courtesy of German Air Traffic Control
Available since
2023-02-16
Version
v1.0.0
Supported Simulators
for Microsoft Flight Simulator
Supported Operating System
Windows
Installation Method
Contrail App
Download Size
1.3 GB
Installation Size
3.48 GB