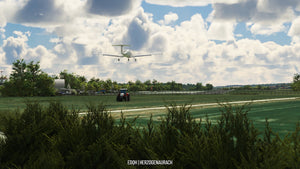 Herzogenaurach EDQH airfield is located northwest of the city of Herzogenaurach and lies at 1070 ft (326 m above sea level).
The original airfield has a historical background dating back to 1935, when it was used for the purpose of a military airfield - at that time fighter squadrons of the Luftwaffe were stationed there. After the war, the airfield was used as a Herzo Base under the flag of the Allied occupation forces and it was not until 1960 that the first flying club set out to establish its own airfield, at that time with a grass runway. In 1961, a 700 m grass runway was then accepted by the authorities and in 1970 the airfield was upgraded to a commercial airfield and with it the runway was finally paved.
Today Herzogenaurach is a popular destination for pilots. There are several farm buildings, a tower as well as a large hangar and a restaurant. There is also a refuelling facility for the respective aircraft types.
The restaurant with its beautiful beer garden offers a wonderful view directly onto the runway. The approach to Herzogenaurach is demanding, because the airfield is located in the middle of the control zone of the Nuremberg Airport EDDN.
Approaches and departures are permitted up to a maximum of 3500 ft, since above this level the control zone C begins as controlled airspace - directly adjacent to the airfield is the control zone and thus the airspace of Nuremberg Airport, which may not be flown without permission.
The runway alignments of the airfield are runways 08 and 26, the asphalt runway has a dimension of 700 x 20 m.
Every building as well as playground and refueling facility at the airfield has been modeled after the original down to the last detail
Close cooperation with the airfield operator on site to create an atmosphere like in reality
Sophisticated night lighting
The approach sector was recreated in detail
Original VFR charts and approach sheet from EDQH courtesy of German Air Traffic Control
Available since
2023-02-16
Version
v1.0.0
Supported Simulators
for Microsoft Flight Simulator
Supported Operating System
Windows
Installation Method
Contrail App
Download Size
1.04 GB
Installation Size
2.54 GB