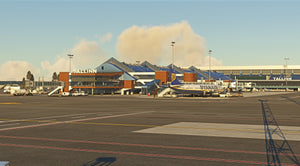 EETN Tallinn MSFS is a highly detailed scenery of EETN Lennart Meri Tallinn Airport in Tallinn, Estonia. This product is compatible with Microsoft Flight Simulator.

Tallinn Airport (IATA: TLL, ICAO: EETN) or Lennart Meri Tallinn Airport is the largest airport in Estonia and serves as a hub for the national airline Nordica, as well as the secondary hub for AirBaltic and LOT Polish Airlines.
Tallinn Airport is open to both domestic and international flights. It is located 2.7 nautical miles (5.0 km; 3.1 mi) southeast of the center of Tallinn on the eastern shore of Lake Ülemiste. It was formerly known as Ülemiste Airport. The most popular scheduled destinations are Frankfurt, Helsinki, Riga, Stockholm, London, and Warsaw.

The airport has a single asphalt-concrete runway, 08/26, that is 3,480 m × 45 m (11,417 ft × 148 ft) and large enough to handle wide-bodied aircraft such as the Boeing 747. The runway is the longest one in the Baltic states. Since 29 March 2009, the airport is officially known as Lennart Meri Tallinn Airport, in honor of the leader of the Estonian independence movement and second President of Estonia Lennart Meri.

The building of Tallinn Airport started in 1932, and the airport was opened officially on 20 September 1936, although it had been operational a good while before the official opening. The runways of the first stage were about 40 meters wide and 300 meters long. As they were arranged in a form of a triangle, they allowed take-offs and landings in six directions. Before World War II, Tallinn Airport had regular connections to abroad by Aerotransport, Deutsche Luft Hansa, LOT, and the Finnish company Aero (now Finnair).

Between 1945 and 1989, Aeroflot was the only airline that served Tallinn Airport. The Old Terminal was used from 1954 to 1980. Regular flights with jet aircraft began on 2 October 1962 with a maiden passenger flight from Moscow for the newest Soviet airliner Tu-124. A new terminal building was built in the late 1970s and the runway was also lengthened then.
The first foreign airline since World War II to operate regular flights from Tallinn was SAS in the autumn of 1989. The passenger terminal building was completely modernized in 1999, increasing its capacity to 1.4 million passengers per year and after that greatly expanded in 2008. The growing demand for extra space for cargo operations created a situation where there was a need for cargo terminal expansion, Cargo 2. In order to meet the growing demand for new cargo facilities at Tallinn Airport, the number of cargo terminals was later expanded to four.

Magnetic MRO has its facilities and headquarters on the airport property. In 2012 the company opened a new 5,000 m2 (53,820 sq ft) column-free three-bay hangar for Base Maintenance works of narrow-body aircraft. In 2015 Magnetic MRO announced the launch of the second painting hangar capable of housing aircraft in sizes up to Boeing 737 MAX 9 and Airbus A321neo, as well as regional aircraft.

A high-quality model of EETN Tallinn, featuring the up-to-date version with extensive details throughout the whole airport

FPS-friendly design, with epic night textures, dynamic lighting and PBR materials, high definition mesh, custom sounds

Performance-friendly interior modeling at all terminal buildings, most hangars and the control tower, static aircraft, custom animations, animated jetways

Tallinn City landmarks included

Fully compatible with GSX Pro using Cartayna Files
Available since
2023-10-22
Version
v1.2.0
Supported Simulators
for Microsoft Flight Simulator
Supported Operating System
Windows
Installation Method
Contrail App
Download Size
2.28 GB
Installation Size
5.16 GB