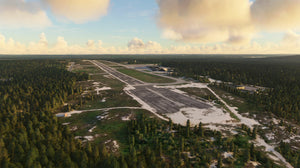 Welcome to Rovaniemi, the official airport of Santa Claus!
Rovaniemen Airport is the third busiest airport in Finland, located about 10 kilometres (6nm) from the city centre. The Arctic Circle crosses the airport runway at its northern end!
Rovaniemi is known for Santa Claus Village and Santa Park located near the airport as well as very cold winters and demanding weather conditions. It's served on a regular basis by Finnair and Norwegian. However, there are many seasonal operators like Aer Lingus, Air France, easyJet, Edelweiss Air, Enter Air, Eurowings, Jet2, LOT, Transavia, TUI and Turkish Airlines.
High-quality airport buildings
Terminal interior
Santa Claus Village
Airport satellite coverage
Detailed terrain mesh
Realistic runway profile
Realistic night lightning
Available since
2023-04-06
Version
v1.1.0
Supported Simulators
for Microsoft Flight Simulator
Supported Operating System
Windows
Installation Method
Contrail App
Download Size
0.95 GB
Installation Size
1.23 GB