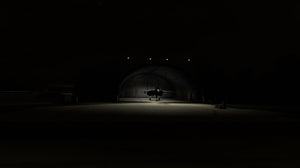 Lakenheath (ICAO: EGUL) is a Royal Air Force station near the village of Lakenheath in Suffolk, England, UK, 4.7 miles (7.6 km) north-east of Mildenhall and 8.3 miles (13.4 km) west of Thetford. The base also sits close to Brandon.

Despite being an RAF station, Lakenheath currently only hosts United States Air Force (USAF) units and personnel. The host wing is the 48th Fighter Wing (48 FW), also known as the Liberty Wing, assigned to United States Air Forces in Europe - Air Forces Africa (USAFE-AFAFRICA). The wing operates the F-15E Strike Eagle and the F-35A Lightning II.

Features
Full custom objects with photoreal textures
All objects include PBR textures
Full night lighting including custom taxi lights using the latest airport lighting system features in the SDK
Full custom ground poly/projected mesh
Terrain is using the latest mesh from the UK update
Static F-15C/D/E and F-35 aircraft


Notes

The scenery requires you have the UK World update installed for the terrain.
If data is turned off and offline mode is used, then some trees may dissapear while others appear where they are not supposed to and you may also experience terrain issues.
The scenery is a updated version of my freeware version which is no longer supported and was not available to XBOX users.

The updates include:
New Ground textures and updated ground poly
Updated and improved night lighting
Added some new models and objects
Added much more clutter around the base.
New F-35 Shelters
New F-35 ramp and parking


Future updates are planned and some will include:
Adding the F-35's,buildings once they are complete and sufficient resources are available
Updating and optimising all current objects in preperation for nearby Mildenhall which I will be developing next year.
Making a custom runway approach lighting system
Thanks to John Young and Ricardo Morilla for the use of some of their models and textures.
Available since
2023-10-06
Version
v2.0.0
Supported Simulators
for Microsoft Flight Simulator
Supported Operating System
Windows
Installation Method
Contrail App
Download Size
278.8 MB
Installation Size
637.3 MB