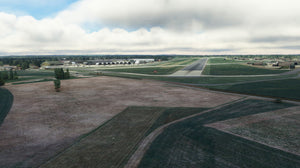 Royal Air Force Coningsby or RAF Coningsby (IATA: QCY, ICAO: EGXC), is a Royal Air Force (RAF) station located 13.7 kilometres (8.5 mi) south-west of Horncastle, and 15.8 kilometres (9.8 mi) north-west of Boston, in the East Lindsey district of Lincolnshire, England.
It is a Main Operating Base of the RAF and home to three front-line Eurofighter Typhoon FGR4 units, No. 3 Squadron, No. 11 Squadron and No. 12 Squadron. In support of front-line units, No. 29 Squadron is the Typhoon Operational Conversion Unit and No. 41 Squadron is the Typhoon Test and Evaluation Squadron. Coningsby is also the home of the Battle of Britain Memorial Flight (BBMF) which operates a variety of historic RAF aircraft.


Features
Fully custom objects with photoreal PBR textures from various visits to the base
Full night lighting including custom taxi lights, runway lights and approach light.
Full custom ground poly.
Custom terrain is using the latest mesh from the UK update
Static Eurofighter Typhoons

Notes
The scenery requires you have the UK World update installed for the terrain.
If data is turned off and offline mode is used, then some trees may disappear while others appear where they are not supposed to and you may also experience terrain issues.
The scenery is a updated version of my freeware version which is no longer supported and was not available to XBOX users.


The updates include:
New Ground textures, which utilise the higher resolution sat imagery.
Updated and improved night lighting
Added the new 12 SQ buildings
Added a custom approach lighting system.
Added a custom mesh rather than the flatten on the previous version.
Updated several models including hangars.
New control tower and TMF Hangar models and textures.
Added the red and white metal fence at the 07 end.
Added much more clutter and detail around the base.
The scenery will be updated over time updating many other models and textures.

A big thanks to John Young and Ricardo Morilla for the use of some of their models and
textures including Johns excellent static models.

It is important to note that the static Typhoons were kindly donated (not for profit) by John Young and are a conversion from his excellent AI models from previous simulations.
Available since
2023-10-06
Version
v2.0.0
Supported Simulators
for Microsoft Flight Simulator
Supported Operating System
Windows
Installation Method
Contrail App
Download Size
294.5 MB
Installation Size
646.2 MB