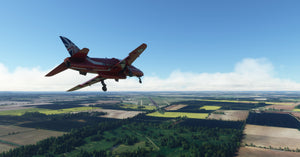 Royal Air Force Scampton
or RAF Scampton (ICAO: EGXP) is a former Royal Air Force station located adjacent to the A15 road near to the village of Scampton,Lincolnshire, and 6 miles (9.7 km) north-west of the city of Lincoln, England. RAF Scampton stood on the site of a First World War Royal Flying Corps landing field, which had been called Brattleby. The station was closed and returned to agriculture following the First World War, and reactivated in the 1930s. It has provided an airfield for fighters in the First World War, bombers during the Second World War and V-force Avro Vulcans during the Cold War. The station was temporarily closed in 1996, but subsequently re-opened to provide a home for the
RAF Aerobatic Team the Red Arrows
, and to private companies, temporarily, such as Hawker Hunter Aviation, for the maintenance and storage of aircraft.
In July 2018, the Ministry of Defence announced that Scampton would close and be sold, with all units relocated elsewhere. The station closed on 31 March 2023.
The scenery represents the base prior to closure in 2022 and has been created using reference material from several visits I made in 2022.
Features
Full custom objects with photoreal textures
All objects include PBR textures
Full night lighting
Full custom ground poly/projected mesh
Terrain is using the latest mesh from the UK update.
Static Red Arrow Hawk T1 aircraft (9 spots have been left vacant on the ramp for multiplayer)
GA parking has been added around the base in the areas away from the Red Arrows ramp.

Notes

The scenery requires you have the UK World update installed for the terrain.
If data is turned off and offline mode is used, then some trees may dissappear while others appear where they are not supposed to.
Thanks to LVFR for the use of some of their models and textures.
Available since
2023-10-03
Version
v1.0.0
Supported Simulators
for Microsoft Flight Simulator
Supported Operating System
Windows
Installation Method
Contrail App
Download Size
526.1 MB
Installation Size
1.27 GB