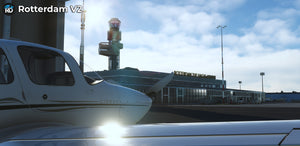 Rotterdam The Hague Airport, (IATA: RTM, ICAO: EHRD) is an international airport serving Rotterdam, the Netherlands' second largest city and The Hague, its administrative and royal capital. It is located 3 NM (5.6 km; 3.5 mi) north northwest of Rotterdam in South Holland and is the second busiest airport in the Netherlands.
The airport handled over 2.1 million passengers in 2019 and features scheduled flights to European metropolitan and leisure destinations, Transavia being the largest operator at the airport. It is also used extensively by general aviation and there are several flying clubs, a skydiving club and a flight training school located at the airport.
We have created a very highly detail version of Rotterdam The Hague Airport and the surrounding area with all of the latest technologies when it comes to 3D modelling and scenery development.

At RDPresets, we want to make the best products possible and we have done the maximum to give our users the best experience possible! Here you can find a small summary of the most notable features on our version of Rotterdam The Hague Airport:

• Highly detailed version of Rotterdam the Hague Airport.
• Handcrafted 3D Objects
• Accurate night lighting.
• Accurate vliegclub area and new aeroclub building.
• Hoog-Zestienhoven Industrial area modelled.
• Airport Hotel Rotterdam
• Brand new Fletcher Hotel in front of the Wings Hotel modelled.
• Simple terminal interior.
• Optimized performance.
• Custom highly detailed ground textures.
• Accurate area in front of the airport, featuring billboards, monument, flags, fuel station, full car parks.
• Accurate taxiway, runway and apron featuring the recently added (Q) parkings.
• PBR Materials throughout.
Available since
2022-08-04
Version
v2.1.0
Supported Simulators
for Microsoft Flight Simulator
Supported Operating System
Windows
Installation Method
Contrail App
Download Size
0.92 GB
Installation Size
2.54 GB