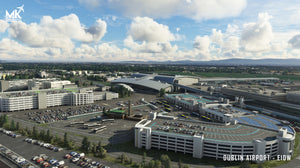 Fáilte go hAerfort Bhaile Átha Cliath (or "Welcome To Dublin Airport", as they say in Irish!) - The largest and busiest gateway to the Emerald Isle ☘️
Dublin International Airport is Ireland's primary gateway for international flights. It serves over 50 airlines and in peak season 1,400 flights each week to the USA, Europe and the Middle East amongst others. The airport is a major connections hub for USA flights with a TSA Preclearance facility located at Terminal 2.
Being significant hubs for it's home airlines Aer Lingus and Ryanair, there is more than 250 destinations for you to choose from to travel to and from with two airlines alone.
Dublin is an excellent choice for any flight simmer looking to do a variety of routes to many major (and not-so major) destinations around the virtual globe.
High-fidelity rendition of Dublin Airport built from the ground up.
Optimised yet crisp texturing throughout all buildings and structures.
Detailed yet frame-friendly Pier 1, 4 and Tower Interiors.
Recently captured hand-corrected and colour-rectified orthoimagery.
Detailed, true-to-life aprons, surfaces, lines and paint markings including the brand-new runway 28R/10L.
Realistic fully-operational A-VDGS implementation like in the real world.
Landside buildings and significant POIs near the airport.
Compatible with most aircraft AI plug-ins.
Optimized to MSFS performance guidelines for PC and Xbox.
Available since
2023-03-29
Version
v2.1.5
Supported Simulators
for Microsoft Flight Simulator
Supported Operating System
Windows
Installation Method
Contrail App
Download Size
1.04 GB
Installation Size
1.98 GB
Reviews
Reviews can be written and liked using the
Contrail App
Review by Daniel
for Microsoft Flight Simulator
A bit too heavy on FPS. It needs to be optimized...
Review by Falcon
for Microsoft Flight Simulator
Very detailed scenery, including people in the terminal, but caused a big FPS loss
Review by Great looking but performance
for Microsoft Flight Simulator
The looks are great but the performance is not acceptable. I get a 30% FPS hit.