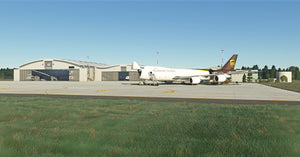 Rzeszów-Jasionka Airport (IATA: RZE, ICAO: EPRZ) is an international airport located in southeastern Poland, in Jasionka, a village 10 km (6.2 mi) from the center of the city of Rzeszów. It is the eighth-busiest airport in Poland and currently the smallest European airport which has a direct scheduled transatlantic connection, with LOT Polish Airlines' seasonal service to Newark.

The beginnings of the "Rzeszów-Jasionka" Airport date back to the years of the Nazi occupation, when in 1940 a runway 1200 m long and 40 m wide was built in Jasionka for military purposes. At the end of the war, in 1944, the Germans, leaving the airport, destroyed it. In the same year, the airport was taken over by the Russians. Then, in 1949-1959 it was rebuilt and made available for air transport.

At that time, as well as in the 1970s, there was a significant rise in domestic flights - to Warsaw, Gdansk, Poznan, Koszalin, Wroclaw and Szczecin, thus allowing the airport to serve more than 100 000 passengers per year.

In 1974, the Airport became an international airport, and an alternate airport for the Warsaw-Okecie Airport. In 1987, the State Enterprise "Polish Airports" was founded, grouping all the airports in the country. The Rzeszow-Jasionka Airport was within its structures to the end of June 2009.

The most awaited investment in the "Rzeszów-Jasionka" Airport was the construction of a new passenger terminal building. After 15 months of construction, on 8 May 2012, the passenger service was moved to the new passenger terminal, which significantly changed the image of the Rzeszów-Jasionka Airport. One building combined departures and arrivals, which were supported by technical and commercial infrastructure. The New Terminal Building has three floors above ground and one underground.

The "Rzeszów-Jasionka" Airport, as the furthest to the southeast communication airport in Poland, has an opportunity to develop further in the near future to open a wider window on the world for our region.
A high-quality model of EPRZ Rzeszów Airport, featuring the up-to-date version with extensive details throughout the whole airport
FPS-friendly design, with epic night textures, dynamic lighting and PBR materials
High definition mesh including exact runway profile
Performance-friendly interior modeling at terminal buildings, control tower and hangars, advanced night lighting, custom animations, sound effects
Rzeszów City landmarks and EPRJ airport included
Available since
2023-11-20
Version
v1.0.0
Supported Simulators
for Microsoft Flight Simulator
Supported Operating System
Windows
Installation Method
Contrail App
Download Size
1.67 GB
Installation Size
2.87 GB