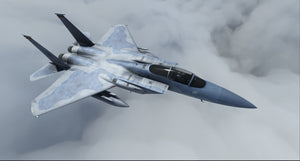 DC Designs are proud to announce their first aircraft collection for Microsoft Flight Simulator! This F-15 Eagle package includes four highly detailed MSFS models: the F-15C, D, E and I 'Ra'am' Eagles.
Fully native MSFS aircraft

• All models have been coded with Microsoft Flight Simulator native 'Model Behaviors' animations and built to MSFS operational specifications to prevent issues with future simulator upgrades.
• The DC Designs F-15 Eagles are fully compliant with MSFS native materials and make use of the new simulator's features such as rain effects and sounds, fully reflective glass, native aerodynamic sound structures, the new 'Modern' aerodynamics system with the ability to provoke 'departure spins', and customised visibility controls for wheel chocks, covers, GPU and guard.
• The F-15 Eagles also contain custom-built and animated effects such as G-vapor, afterburners, and custom-modelled Head-Up Displays.
• Other features include authentic night lighting which includes user-operated 'slime lights' for combat operations and custom-coded air-intake animations based on aircraft airspeed and angle-of-attack.
• Numerous external animations including canopy, crew ladders, tail hook and control surfaces.
• The F-15 Eagles are also fully compliant with Virtual Reality headsets.
Cockpit

• Truly 3D virtual cockpits featuring accurately modelled ejector seats, controls and detailed texturing, each matching the respective variants
• Instruments constructed in 3D with smooth animations
• Working rear-view mirrors
• 'Scratched canopy' glass effects, reflective glass
• Crew figures in the virtual cockpit are coded to disappear when you occupy their seats
• Front and rear cockpit positions included in all twin-seat variants

Aircraft systems

• 3D modelled dials, ADI, 'whiskey' compass and other high-detail instruments designed to emulate the appearance of the real F-15 Eagles
• MFDs with visual layouts based on the real aircraft systems
• Head-Up Display with authentic layout based on the real F-15 Eagle variants
• Custom-coded, user-controlled ordnance via the simulator Payload Manager, allowing for live mounting of weapons on hardpoints with active weight increase.

Eight Liveries

F-15C
• 493rd FS based at RAF Lakenheath
• 173rd Fighter Wing, Oregon Air National Guard
• 144th Fighter Wing, California Air National Guard
• 1st Tactical Fighter Wing, Langley AFB, Virginia

F-15D
• 493rd FS based at RAF Lakenheath

F-15E
• 336th Fighter Squadron, Seymour Johnson AFB, North Carolina
• 391st Fighter Squadron, 'Bold Tigers', Mountain Home AFB
• 391st Fighter Squadron, 'Tiger Meet' 2005

F-15I 'Ra'am'
• N 69 Squadron 'Patishim' (Hammers)

DC Designs' F-15 Eagle is designed to provide a top-quality aircraft that is extremely detailed, yet less demanding to fly than today's most complex procedural simulators. Equipped with all required avionics, and with custom-coded animations and systems, the DC Designs F-15 Eagle is designed to be accessible to all users without the need for intense study.
Available since
2021-07-09
Version
v1.6.0
Supported Simulators
for Microsoft Flight Simulator
Supported Operating System
Windows
Installation Method
Standalone Installer
Download Size
657 MB
Installation Size
2.05 GB
Reviews
Reviews can be written and liked using the
Contrail App
Review by Twinfinite.net
for Microsoft Flight Simulator
It's in combination with Microsoft Flight Simulator's lush and immense world that the F-15 really shines, helping you forget the flaws and technical limitations.

Granted: you can fly fighter jets in DCS and other simulators with a much deeper degree of fidelity, but this is the only one in which you can combine this warbird's performance with the entire planet, its mountains, its valleys, its canyons, and its spectacular weather.

Since this is a review, I can't ignore the fact that this aircraft add-on comes with its share of technical shortcomings, and that DC Designs will have to work hard to improve it over time.

Yet, when I fly through a deep canyon at 600 knots with my palms sweating on the stick and throttle, and my heart racing in my chest, you can bet that, at least for a while, I forget all the issues in favor of the fun.