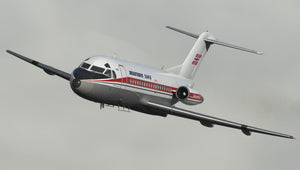 Reviews
Reviews can be written and liked using the
Contrail App
Review by DocTrench
for Microsoft Flight Simulator
An excellent plane that might not be for everyone.
I'm not gonna mince words, the JustFlight F28 is excellent, from the flight model to the sounds to the textures. If you like flying /A the F28 is a heck of a lot of fun, but at the same time that's the plane's biggest issue, /A isn't for everyone (but is well worth trying if you haven't tried before) and even if you love flying /A it's becoming more and more difficult as radio beacons are going dark all around the world, this is especially an issue if you plan on taking the F28 on vatsim, you might have issues flying in europe. The F28 is an excellent plane and well worth picking up if you like flying /A, but if you don't then it's probably best to avoid.

As a last note, if you want to fly in the US and are hesitant to buy a plane that mostly flew in europe, don't be, Piedmont, Empire, Altair, and Horizon all had large fleets of F28s and fairly large networks with them in the USA.