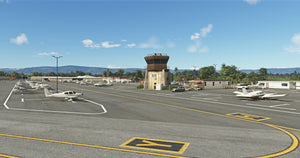 Palo Alto Airport: The Gateway to Silicon Valley's Tech Titans!

Dive into the hub of technological innovation with the meticulously crafted Palo Alto Airport for Microsoft Flight Simulator. Located in the heart of Silicon Valley, this airport is your direct link to the headquarters of tech giants such as Google, Facebook, and many more.
Our rendition of Palo Alto Airport goes beyond a mere digital representation. With high-resolution, PBR-textured models, the entire facility comes alive, offering a lifelike experience. Every detail, from taxiways to the terminal, has been recreated to mirror its real-world counterpart.
Take to the skies from an airport that buzzes with the energy of the world's most revolutionary companies.
Available since
2023-09-15
Version
v1.0.0
Supported Simulators
for Microsoft Flight Simulator
Supported Operating System
Windows
Installation Method
Contrail App
Download Size
218.4 MB
Installation Size
531.1 MB