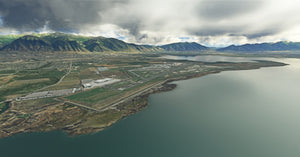 Welcome to the beautiful state of Utah
!
PVU's circle
-to
-land RNAV into RWY 13 is one to give pilots a challenging yet scenic approach
. This Allegiant crew base gives FENIX pilots a chance to visit most notable West Coast destinations from PVU's brand new shiny terminal
. Fancy a flight in the Honda
& Vision jets
? The Duncan
& Signature FBO's give you that chance
. Do you like flying GA aircraft
? This airport is perfect for that with it's two spawnable hangars and plethora of flight schools
.

Animated passengers with full 1:1 terminal interior

2023 Airport Layout

HD texturing with full-scale PBR mapping

2 player spawnable hangars (w/interiors)

Proper AI routing, vehicle pathing, and ATC network

Custom 0.5cm/res ortho

Custom taxiway signage, obstruction lights, guard lights, etc.

Usage of parallax & LOD's for minimal performance loss

Animated tower controllers & mechanic working in a hangar
Note: Most of the aircraft visible in the product screenshots have been injected using the free FS Live Traffic Liveries (FSLTL) add-on.
Available since
2023-10-03
Version
v1.0.0
Supported Simulators
for Microsoft Flight Simulator
Supported Operating System
Windows
Installation Method
Contrail App
Download Size
1.08 GB
Installation Size
1.89 GB
Reviews
Reviews can be written and liked using the
Contrail App
Review by DocTrench
for Microsoft Flight Simulator
A stunning airport, Verticalsim really did an excellent job with both the GA and airliner sides of this airport, including an interior on the old terminal which is now Signature's FBO. I'd especially like to note and commend the ground textures on the ramp, runways and taxiways, which are just stunning in their quality.
Review by NikkoUM
for Microsoft Flight Simulator
Fantastic recreation of of this airport with its small unique terminal. Wonderful part of the world to fly in and out of. As always, well done Verticalsim!
Review by Erik Mendoza
for Microsoft Flight Simulator
Excellent work! Love the airport atmosphere, the parking lot is amazing! I hate seeing parking spots that only use satellite imagery so the extra work paid off! Everything is just crisp about the airport so well done and I highly recommend it! Amazing airport to fly allegiant in and out of!
Review by Anonymous
for Microsoft Flight Simulator
Love this airport, a lot of immersion and details, and I was very excited to fly into this airport with GA. Kudos to the people who worked on it!!
Navdata does caution for deer in and around airport, possible their in the game but I didn't see any (would be a great touch also having a few open hangers down by the private jets would be nice)
Review by Travis H.
for Microsoft Flight Simulator
As we have come to expect from Vertical Sim, another fantastic scenery with amazing attention to detail and optimization.

He is simply one of the best and as with all of the rest of his work, I fully recommend this one!