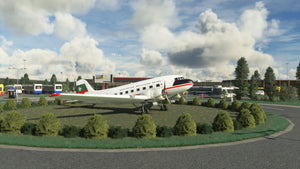 Welcome to AG Sim's latest airport add-on for Microsoft Flight Simulator - Burgas Airport! Our team of expert developers has worked tirelessly to bring you a highly-detailed and realistic recreation of this bustling airport located on the Bulgarian Black Sea Coast.
Burgas Airport (IATA: BOJ, ICAO: LBBG) is a popular destination for both leisure and business travelers, serving millions of passengers each year. With our add-on, you'll be able to experience the thrill of flying into one of Bulgaria's busiest airports, complete with stunning visuals and intricate details.
Our 3D model of Burgas Airport features an accurate representation of the airport's terminal, runways, taxiways, and surrounding area. We've also included custom ground textures, dynamic apron objects, and realistic lighting to create an immersive experience for Flight Simulator users.
As with all of our add-ons, our team has gone above and beyond to ensure that every detail is accurate and up-to-date. From the placement of airport signage to the positioning of individual trees, we've worked tirelessly to ensure that the airport is as true to life as possible.
Whether you're a casual virtual pilot or a seasoned aviation enthusiast, our Burgas Airport add-on is sure to impress. With its high level of detail and realism, you'll feel as though you're actually flying into Burgas Airport. So why wait? Buy our add-on now and take to the skies like never before!
The 3D buildings in our add-on have been created with meticulous attention to detail to provide a truly immersive experience for users
Fully PBR textures have been utilized to enhance the realism and visual quality of the airport.
The ground textures have been updated and renewed to reflect the latest changes to the airport and create a more accurate representation.
Vegetation has been added around the airport to create a more natural and scenic environment for users.
Animated flags and windsocks have been included to provide a more dynamic and realistic atmosphere.
The slope of the airport has been accurately modeled to provide users with a realistic and challenging experience.
The night lighting has been carefully designed to provide a visually stunning and immersive experience for users.
Accurate ground and traffic signs have been included to enhance the realism of the airport and ensure that users can navigate the airport with ease.
For your questions, you can always reach us via contact@ag-simulations.com We are really good at replying your e-mails quickly.
Available since
2023-05-05
Version
v1.0.0
Supported Simulators
for Microsoft Flight Simulator
Supported Operating System
Windows
Installation Method
Contrail App
Download Size
1.6 GB
Installation Size
4.31 GB