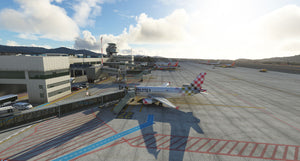 Sim-wings' Ibiza V2 adds a detailed replica of the international Ibiza Airport (LEIB, IBZ) to the Microsoft Flight Simulator.

Fly to the famous party island and look forward to detailed models of the airport terminals, buildings and other airport facilities. A custom aerial image covering the airport area and the close surroundings has been used for modelling. It smoothly blends into the default aerial terrain.

The accuracy of the exact positioning of the taxiways, the apron and the parking areas as well as a profile of the runway, converted according to official flight charts, ensure a realistic simulation experience.

Moreover, custom animated jetway models and a realistic night time dynamic lightning brings the airport to life. Custom taxiway signage provides the final touch.

• Features a highly accurate rendition of Ibiza Airport (LEIB, IBZ)
• Detailed models of airport terminals, buildings and other airport facilities
• Working VDGS safe gates (Aerosoft Module)
• Terminal interior at departure level airside
• Accurate taxiway, apron and stands layout (including new GA apron and PP layout)
• Custom aerial image covering the airport bounds and close vicinity
• Smooth blending into default aerial terrain
• Accurate DEM height model of airport area. resolution about 4 to 5 m.
• Runway profile according to official Spanish airport charts
• Custom animated jetway models
• Up to date runway, taxiway and stand layouts
• Custom taxiway signage
• Realistic night time dynamic lighting
• MSFS SDK materials (PBR)
• Custom local static apron vehicles and utilities

Available since
2021-05-18
Version
v2.0.0
Supported Simulators
for Microsoft Flight Simulator
Supported Operating System
Windows
Installation Method
Contrail App
Download Size
0.92 GB
Installation Size
1.75 GB
Reviews
Reviews can be written and liked using the
Contrail App
Review by FlightSim.com
for Microsoft Flight Simulator
The airport terminals and general buildings throughout the airport itself look really well-made. The textures are sharp and realistic regardless of what time of day it is in the simulator which is nice.

Personally, I think the price is very reasonable for what you get. It's a really great rendition of Ibiza airport and the surrounding areas, and it looks absolutely fantastic in the simulator itself. It's great on performance and visuals, and it's very accurate to its real-world counterpart as well.

If you're looking for a really good Ibiza airport scenery add-on for Microsoft Flight Simulator I would highly recommend Aerosoft Sim-Wings Ibiza.
Review by Tom U
for Microsoft Flight Simulator
I've messaged the developper to see if they would be updating the scenery to include all the works that have been done, are going to be done.

Other than that the scenery is great :)
Review by LIT034
for Microsoft Flight Simulator
Nice scenery, but needs updating... two taxiways missing: E2 and F2 !