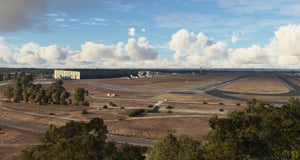 Seville Airport (IATA: SVQ, ICAO: LEZL) (Spanish: Aeropuerto de Sevilla) is the sixth busiest inland airport in Spain. It is the main international airport serving Western Andalusia in southern Spain and neighboring provinces. The airport has flight connections to 42 destinations around Europe and Northern Africa and handled 7,544,473 passengers in 2019. It serves as a base for the low-cost carriers Vueling and Ryanair. It is 10 kilometers (6.2 mi) east of central Seville and some 110 kilometers (68 mi) northeast of Costa de la Luz.
The Seville airport is also known as San Pablo Airport to distinguish it from the older Tablada airport, which operated as a military aerodrome until 1990.
In the airport grounds, there is an Airbus factory (San Pablo Sur), an Airbus maintenance center (San Pablo Norte), and a Ryanair maintenance center.
High-fidelity 3D modelling
Detailed, true-to-life apron and surrounding areas
Vibrant, hand corrected orthoimagery
Custom DEM mesh
Full PBR texturing
Current ground layout (2022)
Realistic night lighting
Optimized as per Microsoft's standards for Xbox and PC
Available since
2023-10-13
Version
v1.1.0
Supported Simulators
for Microsoft Flight Simulator
Supported Operating System
Windows
Installation Method
Contrail App
Download Size
1.18 GB
Installation Size
2.19 GB
Reviews
Reviews can be written and liked using the
Contrail App
Review by LGonzález
for Microsoft Flight Simulator
Although the buildings look quite similar, they don't have much interior design. There are no taxiway lights and there are many terrain problems on the runway and taxiways. It has hardly been updated since it went on sale