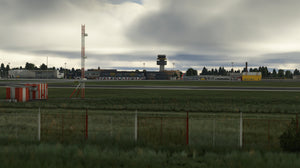 Timișoara Traian Vuia International Airport (IATA: TSR, ICAO: LRTR), is an international airport serving Timișoara, Romania. Located in the historical region of Banat, the airport is named in honor of Traian Vuia, a Romanian flight pioneer and a Timiș County native. It is the third-busiest Romanian airport in terms of air traffic, and the main air transportation hub for the western part of Romania and for the Danube–Criș–Mureș–Tisa Euroregion. The airport serves as an operating base for Wizz Air and is considered a backup airport for Bucharest, Budapest, and Belgrade. The airport scenery was realistically recreated based on many references from the real airport as of march 2023.


PBR Textures
Custom Ground polygons
2023 layout
Exquisite Night Lighting
GSX Profile
Available since
2023-10-06
Version
v1.0.0
Supported Simulators
for Microsoft Flight Simulator
Supported Operating System
Windows
Installation Method
Contrail App
Download Size
1.19 GB
Installation Size
2.68 GB
Reviews
Reviews can be written and liked using the
Contrail App
Review by Anonymous
for Microsoft Flight Simulator
English Translated:
An airport well done. Doesn't bother me with the fps. I liked the combination of parallax shots and that interior(with passengers) that you can walk around in. Being an airport developed in 2023, I would have liked the terminals to be modelled too. They are only paralax, but they look very nice. I would have liked that specific airport sound (announcements, passenger voices). The materials are good quality and I think they are 4k. I like that it respects a lot the real look of the airport. As much as possible. There are still small differences. I would have liked the control tower to be detailed too. I'm glad someone is finally thinking about the development of Romanian airports! A very big difference between LRIA and LRTR. I hope that LROP will outperform LRTR.
Congratulations MLD!

Original:
Un aeroport bine realizat. Nu imi face probleme cu fps-ul. Mi-a placut imbinarea de imagini paralax si acel interior(cu pasageri) in care te poti plimba. Fiind un aeroport dezvoltat in 2023, mi-ar fi placut ca si terminalele sa fie modelate. Ele sunt doar paralax, dar arata foarte bine. Mi-ar fi placut sa fie si acel sunet specific din aeroport( anunturi, vocile pasagerilor). Materialele sunt de buna calitate si cred ca sunt 4k. Imi place ca respecta mult aspectul real al aeroportului. Atat ca s-a putut. Sunt totusi mici diferente. Mi-ar fi placut ca turnul de control sa fie si el detaliat. Ma bucur ca in sfarsit cineva se gandeste la dezvoltarea aeroporturilor romanesti! O diferenta foarte mare intre LRIA si LRTR. Speram ca LROP sa depaseasca mult LRTR.
Felicitari MLD!