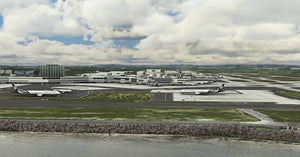 Kia ora and welcome to Auckland International Airport (NZAA), the heart of New Zealand and the busiest airport in the country with over 21 million passengers a year. Located only 13 miles (21km) from the city center, Auckland Airport is a massive hub for international travel with destinations served all over the world. 
NZAA is our most detailed product released to date, with a full airside survey done in cooperation with airport officials. In addition to hand-painted close-up details, you'll experience immersive details on approach or departure, featuring densely detailed control tower interiors, hand painted PBR materials and MUCH more! Packed all into one, highly-optimized product designed to run as smooth as possible on your system.

• Wide variety of custom static aircraft, from DHL to FEDEX and more
• Elaborately detailed and realistic 4096x4096 textures with carefully crafted PBR materials
• Multi-layered, realistic hand-painted ground textures with PBR and custom decals
• All new Gen-5 Flightbeam Jetways, packed with astounding detail, wear & tear and precision guidance
• Control Tower interiors, comprehensive modeling and perfect for virtual plane-spotting or virtual ATC operations
• Key terminal interiors modeled for an exceptional immersive view from the cockpit
• Massive, high resolution ground imagery included, surrounding the outskirts of the airport
• Custom-made taxiway lights and runway approach lighting
• Hand placed custom apron night lights and glows for night time ops
• Aggressive LOD optimization, ensuring smooth performance even for modest systems
• Kiwi-approved product, with the vast majority of beta-testers being local to the airport

In development and coming soon as a free update:
• VDGS Systems (Visual Docking Guidance System) for each gate
• Improved Living World assets (animated passengers and workers)
• 2022 and on: Updates to reflect current airport construction.

Available since
2021-11-06
Version
v1.2.0
Supported Simulators
for Microsoft Flight Simulator
Supported Operating System
Windows
Installation Method
Contrail App
Download Size
2.29 GB
Installation Size
3.74 GB
Reviews
Reviews can be written and liked using the
Contrail App
Review by Twinfinite.net
for Microsoft Flight Simulator
Auckland International airport is a high-quality add-on that enriches the location massively. There are a few nitpicks and small issues (some of which are entirely subjective), but we're looking at a very solid product worthy of Flightbeam's reputation.

If you like to fly over the beautiful mountains, forests, and volcanoes of New Zealand and enjoy flying airliners of all types, this is a very easy recommendation.
Review by Tom Gregory
for Microsoft Flight Simulator
By far one of the best versions of NZAA I have seen, Worth the $$ and takes my vatsim experience to the next level.

cant wait to see what nzwn looks like when it comes out :)
Review by Ken Wright
for Microsoft Flight Simulator
Excellent well worth the money, waiting for NZWN
Review by Has anyone made use of the VDGS
for Microsoft Flight Simulator
Has anyone made a YouTube video of the VDGS systems at NZAA yet ?
Review by BritishAvgeek YT
for Microsoft Flight Simulator
A stunning rendition of New Zealand's Auckland International Airport in MSFS.... highly detailed with exquisite PBR textures and brilliant emissives/interiors, it's a must-buy for the sim!
Review by Nick Botica
for Microsoft Flight Simulator
Amazing scenery! We've never had a proper rendition of NZAA in the history of Flight Sim (the FSX version doesn't count :) ) Great job Mir
Review by IcyMonkey
for Microsoft Flight Simulator
First airport addon for the MSFS flight sim, there's one word, AMAZING, I can't describe it it's perfect, there is a problem though, I am spawning in with the CS 777-300ER and it crashes, but other than that 1000/5 star!
Review by Anonymous
for Microsoft Flight Simulator
just stunning details of scenery. superb