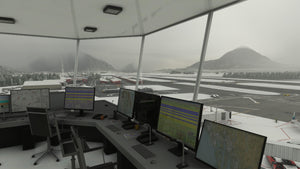 Designed For
Microsoft Flight Simulator
Juneau International Airport is a city-owned, public-use airport and seaplane base located seven nautical miles (8 mi, 13 km) northwest of the central business district of Juneau, a city and borough in the U.S. state of Alaska that has no direct road access to the outside world. The airport serves as a regional hub for all air travel, from bush carriers to major U.S. air carriers such as Alaska Airlines.

The airport is located at an elevation of 25 feet (7,6 m) above sea level. It has one runway designated 8/26 with an asphalt surface and one seaplane landing area designated 8W/26W.

Alaska Airlines, Delta Air Lines, Alaska Seaplanes, Ward Air, and Harris Air now operate in the airport.
The busiest domestic routes from Juneau are to Seattle, Anchorage, Sitka, Ketchikan, Petersburg, Hoonah, Haines, Gustavus, Wrangell, and Yakutat.
The main plane on this routes is a Boeing 737-700 passenger, cargo, and mixed modification by Alaska Airlines.

Also, helicopter tours are available at the airport. Temsco Helicopters, Coastal Helicopter, and NorthStar Helicopters make tours on glaciers and scenic flights around Juneau borough.


The most detailed replica of airport buildings and vehicles
Custom surroundings
All materials created for full PBR
Shading and occlusion (texture baking) effects on all airport buildings
High-resolution building textures
Use of native, highly efficient gITF models
Custom orthophoto for the airport and surrounding areas
Available since
2023-08-25
Version
v1.2.0
Supported Simulators
for Microsoft Flight Simulator
Supported Operating System
Windows
Installation Method
Contrail App
Download Size
3.96 GB
Installation Size
5.92 GB