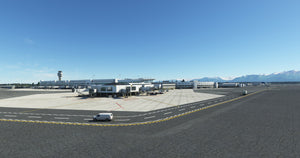 Anchorage Ted Stevens International (PANC) is the most important airport in Alaska and a destination of many national and international connections. It is a hub for Alaska Airlines and an important cargo airport located conveniently between the USA and Asia.
In this great state roads are scarce and limited to the major cities. The vast wilderness can only be reached by aircraft, often only by floatplane or small aircraft equipped for off-airport landings. And Anchorage International Airport 'Ted Stevens' is at the center of much of this aviation. Add the violent weather and the long hours of darkness in the winter and you end up with an airport that is in every way remarkable and well worth a superb rendering for Flight Simulator.
Right next to PANC, via a taxiway connection crossing several streets, you can find Lake Hood – the largest seaplane base in the world. Next to Lake Hood there is a dirt strip "Z41" used by aircraft that have tundra equipment attached (special wheels to enable landing on unpaved strips in the wilderness).
Includes a highly accurate recreation of Anchorage Airport (ANC, PANC)
Highly detailed models with high resolution textures
Custom jetways with correct number variations for each terminal pier
A lot of ground clutter and service equipment at aircraft stands and parkings
Up to date runway, taxiway, apron and stands layout
Custom and accurate taxiway signage
Custom aerial image covering the airport boundary and surrounding area including Lake Hood
Accurate terrain elevation and runway profiles
Realistic night time dynamic lighting
Terminal interior for national and international terminal
Includes scenery of Lake Hood float plane base
Available since
2022-06-03
Version
v1.0.2
Supported Simulators
for Microsoft Flight Simulator
Supported Operating System
Windows
Installation Method
Contrail App
Download Size
3.88 GB
Installation Size
4.54 GB
Reviews
Reviews can be written and liked using the
Contrail App
Review by Rocky jet Project
for Microsoft Flight Simulator
This is the best Anchorage payware out there and its awesome!
Review by AHal
for Microsoft Flight Simulator
I'm getting a CTD every time I try and load into this scenery both with and without the Orbx Alaska mesh enabled. Removing this PANC scenery eliminates the ctd. Widespread or just me?
Most of the time a CTD is caused in conjunction with another add-on. The question is which one, which needs to be investigated. We haven't heard of other customers reporting this issue with PANC so far. Please contact Aerosoft who provide support for sim-wings product through their support forum.
Review by Brent
for Microsoft Flight Simulator
Would love to give a review of this product but every time I try to load into this airport I get a CTD.
I see another reviewer that has mentioned the same issue. Is there any solution to this problem?
Hi, as mentioned below the other review, CTDs can be caused by other products. If the issue still persists after de-activating all other add-ons (e.g. using MSFS Add-On Linker), please contact the Aerosoft support. Thank you!
Review by DocTrench
for Microsoft Flight Simulator
This is absolutely the best PANC in sim and well worth picking up if you like flying tubes in Alaska, that being said it lacks compared to the quality of flytampa, flightbeam and verticalsim, the textures and models feel a bit weak comparatively. This addon also doesn't do much for PALH unfortunately, it populates it heavily with static aircraft which is fine if you're just flying tubes, but PALH is not really the quality one would hope for if you're expecting to be able to fly out of lake hood.
Review by Jojimbo
for Microsoft Flight Simulator
I just felt I had to say this scenery is one of the best I have ever used, I am really picky but the standard is well above any expectations. The attention to detail is exemplary the whole airport is alive. The interior of the main terminal you hit the ball out of the park, and for the relative pricing, more than value for money. Thank you.
Review by MarcoG
for Microsoft Flight Simulator
flawless install, flawless functioning

the product also fixes parking spots issues (AI not appearing before, expecially in cargo areas)

thanks