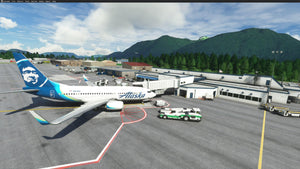 Designed For
Microsoft Flight Simulator
The airport is named after Sitka's former mayor Rocky Gutierrez. The airport includes a single terminal with a jetway with air service that is operated for a whole year by Alaska Airlines and seasonally by Delta Air Lines regional affiliate Delta Connection which is operated by SkyWest Airlines. The single paved runway is located on a causeway that juts off Japonski Island—buried on airport grounds patients who died from tuberculosis from the nearby SEARHC/Mt. Edgecumbe Hospital had to be relocated during construction. That section of the airport is, by this day, unofficially referred to as The Mausoleum.

Sitka Rocky Gutierrez Airport is located at an elevation of approximately 26 feet (8 meters) above mean sea level. The property includes one runway designated 11/29 with an asphalt surface measuring 7,200 by 150 feet (2,195 x 46 m). For one year, ending January 2, 2011, the facility had 23,100 aircraft operations, that on average, equals 63 per day. 43% of them represent air taxi, 8% scheduled commercial, 43% general aviation, and 6% military. At that time, there were thirty aircraft based at this airport, with 70% of them single-engine, 10% military, 13% ultralight, and 7% multi-engine.

SIT also has hangars and offices that serve local air traffic control, together with the Civil Air Patrol, and various private enterprises. U.S. Coast Guard Air Station Sitka has a complex attached to the Sitka Rocky Safety hazards involve ocean waves washing onto the runway during high winds, storms due to its exposed location, and significant flocks of birds that live very close to the airport. Because of these hazards, the airport is listed by airfarewatchdog.com as one of the ten most thrilling landing experiences in the world.

Alaska Airlines has served Sitka for about fifty years. In 1967, Alaska Air was operating Boeing 727-100 jet service into the facility on a round trip from Seattle to Kotzebue and was also operating flights with Convair 240 propliner service nonstop to Juneau. By 1969, Alaska Air had added a few stops on the route between Seattle and Alaska. It was operating a Boeing 727-100 jetliner on a round trip routing from Seattle to Sitka and the final destination at Kotzebue in addition to working Convair 240 service on a round trip routing of Annette Island Airport - Wrangell - Petersburg - Sitka - Juneau. Over the years, Alaska Air also operated Boeing 727-200 and 737-200 jets into the airport before switching to later model Boeing 737 jetliners. In 1986, Anchorage-based AirPac was working jet service into SIT with a British Aerospace BAe 146-100 aircraft that was flying a round trip routing of Seattle - Sitka - Anchorage.

Alaska Airlines, Delta Air Lines, and Alaska Seaplanes now operate in the airport.
The main plane on this route is a Boeing 737-700 passenger, cargo, and mixed modification by Alaska Airlines.


The most detailed replica of airport buildings and vehicles
Custom surroundings
All materials created for full PBR
Shading and occlusion (texture baking) effects on all airport buildings
High-resolution building textures
Use of native, highly efficient gITF models
Custom orthophoto for the airport and surrounding areas
Available since
2023-08-25
Version
v1.0.0
Supported Simulators
for Microsoft Flight Simulator
Supported Operating System
Windows
Installation Method
Contrail App
Download Size
1.47 GB
Installation Size
2.76 GB