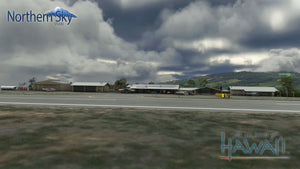 Designed For
Microsoft Flight Simulator
Waimea-Kohala Airport is located south of Kamuela Town at an elevation of 2,671 feet in the northern portion of the Big Island of Hawaii.

The predecessor of Waimea Kohala Airport was a U.S. Marine Airfield known as Bordelon Field which was just across the highway. It was the Kamuela Airport from 1946-1957.
In October 1946, the Territorial Department of Public Works published a Master Plan to construct a Class III Airport in Kamuela. The proposed airport had one runway of 4,650 feet by 100 feet.

Waimea was a popular tourist center before the war and tourist facilities, which were occupied by Marines during World War II, were converted to tourist facilities.

On February 20, 1952, the construction of the new Kamuela Airport was started. In the following years, the airport has modified and completed new parts of the building. The airport has been equipped with new lighting and technology. The final view of the building has also acquired by 1972.
The terminal featured a ranch house design and was the first of a combination passenger-freight structure in the island.

As of June 2010, the airline listed flights from Honolulu to Waimea-Kohala (Kamuela) but none could be booked. The site stated "Sorry there are no flights available" regardless of what date was sought. The HDOT is working to determine if scheduled passenger service should be discontinued at Waimea-Kohala, as passengers have access to Kona International Airport which is less than a 30-minute drive from Kamuela.

Nowadays, the airport is used for tourist excursions on the helicopters of the company "Paradise helicopters". Also, the airport is actively used for flights on gliders and balloons.


The most detailed replica of airport buildings and vehicles
Custom surroundings
All materials created for full PBR
Shading and occlusion (texture baking) effects on all airport buildings
High-resolution building textures
Use of native, highly efficient gITF models
Custom orthophoto for the airport and surrounding areas
Available since
2023-08-25
Version
v1.1.0
Supported Simulators
for Microsoft Flight Simulator
Supported Operating System
Windows
Installation Method
Contrail App
Download Size
541.4 MB
Installation Size
1.17 GB