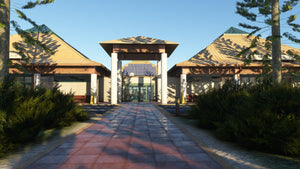 Designed For
Microsoft Flight Simulator
Lanai Airport (ICAO: PHNY), is a state-owned public-use airport located about 3.4 miles (6 km) southwest of the central business district of Lanai City, in Maui County, Hawaii. It is the only airport serving the island of Lanai.

An emergency landing strip was established on Lanai in 1919.
In its 1928 Annual Report, the Territorial Aeronautical Commission reported the excellent cooperation of the Hawaiian Pineapple Company, in making a suitable field available for emergency airplane landings on the Island of Lanai. The field was at Leinukalahua, Kaa.
Inter-Island Airways, now Hawaiian Airlines, began operations to Lanai in 1930 with Sikorsky S-38, eight-passenger amphibious planes. The landing field was sod and owned by the Hawaiian Pineapple Company.

In 1944 the Territorial Department of Public Works issued a report proposing to construct a Class IV airport four miles southwest of Lanai City. They proposed construction of a flight strip, with runway, installation of boundary lights, contact lights, range lights, rotating and code beacons, control panel, fencing of the entire field and an access road.

The existing airport was too small for two-engine planes, and the CAA has advised that it is willing to consider an application for a major airport.
A new airport site for Lanai was chosen and on September 18, 1946, Hawaiian Airlines resumed service there using Douglas DC-3s. The field was an unpaved sod strip and as a result was practically unusable in wet weather and almost untenable due to dust and dirt in dry weather. In view of these conditions, air service was not reliable and it was therefore decided to pave the runway and taxiway.

In October 1946 a Master Plan was created which showed a single runway of 4200×600 feet. The Territory also planned to construct an administration and terminal building to make the airport readily available to all inter-island operators.
On April 12, 1948 work was completed on the reconstruction of Lanai Airport. The airport was officially dedicated on July 12.

By 1950 the airport was served regularly by Hawaiian Airlines with twice daily passenger service in two directions and twice weekly freight service. Air mail service was supplied. Trans-Air Hawaii also provided twice weekly air freight service. Additional cargo and non-scheduled flights were made into Lanai by charter air services.
By 1955, the airport consisted of 59 acres of land, and had one paved runway, 3-21, which was 80-feet wide and 3,700-feet long. Scheduled service was provided by Hawaiian Airlines, Ltd., and Trans-Pacific Airlines, Ltd. The airport included Hawaiian Airlines passenger terminal building, a freight terminal building, a paved runway and warm up areas, paved taxiway and apron, wind socks, field maintenance, and crash and fire protection.

Lanai Airport's newly extended runway and terminal building project was completed and dedicated in a special ceremony on October 16, 1966. The project also included construction of a taxiway and apron and a new terminal building as well as the relocation of the existing freight terminal building.
Throughout the 1980s, there were minor upgrades to the airport. When the Douglas DC-3 was ultimately replaced by larger aircraft, the airport once again became obsolete.
Construction on the new terminal began in January 1993. The spacious new 15,000 square foot terminal, built to accommodate the growth in tourism to Lanai, was dedicated on April 19, 1994. It was five times larger than the structure it replaced. A new parking area, roadway and landscaping were included.
Pacific Wings began two daily flights between Kahului and Lanai City on March 1, 2000, the next day Island Air suspended its two daily flights between Lanai and Maui due to a shortage of pilots. Now the only commercial airline, Mokulele Airlines, operates Cessna Grand Caravan 208EX aircraft into Lanai.


The most detailed replica of airport buildings and vehicles
Custom surroundings
All materials created for full PBR
Shading and occlusion (texture baking) effects on all airport buildings
High-resolution building textures
Use of native, highly efficient gITF models
Custom orthophoto for the airport and surrounding areas
Available since
2023-08-25
Version
v1.1.0
Supported Simulators
for Microsoft Flight Simulator
Supported Operating System
Windows
Installation Method
Contrail App
Download Size
1.34 GB
Installation Size
1.84 GB