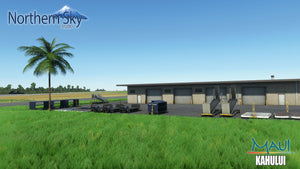 Designed For
Microsoft Flight Simulator
Kahului Airport (ICAO: PHOG) is an airport in the state of Hawaii, United States, located east of Kahului in Maui County on the island of Maui. It has offered full airport operations since 1952. Most flights into Kahului Airport originate from Daniel K. Inouye International Airport in Honolulu; the Honolulu–Kahului corridor is one of the heaviest-trafficked air routes in the US, ranking 13th in 2004 with 1,632,000 passengers.
The IATA airport code OGG pays homage to aviation pioneer Bertram J. "Jimmy" Hogg, a Kauai native and aviation pioneer who worked for what is now Hawaiian Airlines flying aircraft ranging from eight-passenger Sikorsky S-38 amphibians to Douglas DC-3s and DC-9s into the late 1960s.
It is included in the Federal Aviation Administration (FAA) National Plan of Integrated Airport Systems for 2017–2021, in which it is categorized as a medium-hub primary commercial service facility.
The most detailed replica of airport buildings and vehicles
Custom surroundings
All materials created for full PBR
Shading and occlusion (texture baking) effects on all airport buildings
High-resolution building textures
Use of native, highly efficient gITF models
Custom orthophoto for the airport and surrounding areas
Available since
2023-08-25
Version
v1.3.1
Supported Simulators
for Microsoft Flight Simulator
Supported Operating System
Windows
Installation Method
Contrail App
Download Size
1.63 GB
Installation Size
2.81 GB