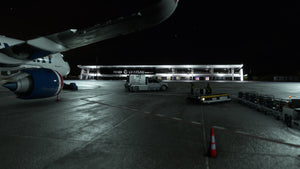 Capitán de Corbeta Carlos A. Curbelo International Airport (IATA: PDP, ICAO: SULS), also known by its former official name of Laguna del Sauce International Airport, is an airport serving Punta del Este, Uruguay, located in the adjoining municipality of Maldonado.
Welcome to Punta del Este. Are you ready for this luxury destination? Located in South America, this resort city awaits you and millionaires from all over the world. Want to take your private jet there? Be prepared to share your parking with a whole bunch of them, in a huge GA Apron with dozens of positions. Or you can just take a short commercial flight from Buenos Aires, Rio de Janeiro or San Pablo. Don't miss the chance to fly over the beautiful coasts of Uruguay and enjoy our latest and most accurate development, with incredible detailed interiors of the Main Terminal.
The airport mainly serves passengers traveling to neighbouring Punta del Este, although it also serves cities surrounding the Maldonado area. Typically sees a growth in passenger numbers during the southern hemisphere summer months. It can handle many types of aircraft including wide-bodies, although usually mid-size jets like the Boeing 737 and Airbus 320, and turbo-props like the ATR 42 are used in this airport. The airport is currently the second busiest airport in Uruguay, both in passenger service and scheduled flights.
Highly detailed Main Terminal as designed by famous architect Carlos Ott.
Includes modeled interiors as checkin halls, boarding areas, VIP lounge and more.
Airport Control Tower with interiors.
New FBO VIP Club building.
Accurate runway and taxiways markings and materials based on recent updates.
Main Apron with all operational parking positions.
GA Apron with over 20 parking positions.
Custom made handling objects.
Realistic night lighting.
Available since
2022-09-03
Version
v1.1.0
Supported Simulators
for Microsoft Flight Simulator
Supported Operating System
Windows
Installation Method
Contrail App
Download Size
220.4 MB
Installation Size
668.7 MB