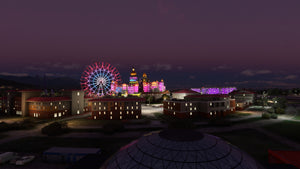 Welcome, the main resort of Russia, one of the busiest airports after Moscow and St. Petersburg!
Located near the Black Sea coast, surrounded by the Caucasus Mountains, Sochi Airport has one of the scenic approaches.
Sochi is the capital of the 2014 Winter Olympics, more than 100 objects in the surrounding area have been recreated, including Olympic objects and resort areas!
The airport and surroundings have been recreated with the smallest detail. Enjoy with the detailing of the scenery!
• Complete high-quality models of the Sochi airport
• 
Many custom airport vehicles
• 
Many custom 3D models of vegetation and trees.
• 
Custom surroundings including many attractions around the airport, over 100 objects.
• 
Complete recreation of the Olympic facilities, track F1, coasts, sochi park, hotels etc
• 
Animated 3D people
• 
Custom animated jetways
• 
Advanced night lighting
• 
Static planes and helicopters
• 
Use of parallax windows in combination with partial interior modeling
• 
FPS-friendly design
• 
Correct runway profiles
• 
The actual state of the Sochi airport
Available since
2021-09-01
Version
v1.1.0
Supported Simulators
for Microsoft Flight Simulator
Supported Operating System
Windows
Installation Method
Contrail App
Download Size
3.2 GB
Installation Size
4.2 GB