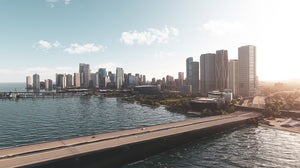 A redesign of the city area has been conducted to accurately reflect the geographical positioning of objects. We optimize the built-in photogrammetry of the MSFS in the city area, rectifying textures, structures, bridges, and shores while reintroducing many omitted buildings and features. The primary aim of this scenery is to exhibit the photogrammetry of MSFS's USA at its finest, augmented with additional feature buildings to further enrich the simulation experience. This volume encompasses four major cities in the United States: Boston, Los Angeles, Philadelphia, and Miami.

Instructions
To ensure compatibility with other Miami airport add-ons, please use the MSFS scenery layer index tool to position this scenery layer at the bottom.

Features

Over 60 meticulously crafted building models in each city.
Replacement of default damaged bridges with meticulously crafted bridges throughout the cities.
Stunning night effects for a more realistic experience.
Numerous building rooftops serve as landable helipads.
Compatibility with other developer airport add-ons to enhance functionality.

Usable with the photogrammetry feature turned off for increased flexibility.

Includes the Boston Harbor Seaplane Base (BNH) for additional options and exploration.
Available since
2023-09-27
Version
v1.2.0
Supported Simulators
for Microsoft Flight Simulator
Supported Operating System
Windows
Installation Method
Contrail App
Download Size
3.17 GB
Installation Size
6.6 GB