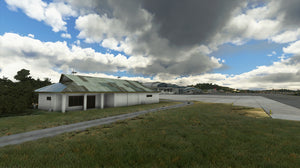 Aerosoft Komodo Labuan Bajo Airport (IATA: LBJ, ICAO: WATO), located in the north-western part of the Indonesian island Flores, was created utilising the latest technologies of the Microsoft Flight Simulator platform. It includes a highly detailed airport with its modern terminal facilities and a surrounding autogen-style scenery for custom local-style buildings. It is just a short hop away from the islands of Bali and Lombok, two other popular holiday destinations in Indonesia.
The airport has undergone several transformations during the past years, including the all-new modern terminal facilities and a new southern taxiway. The location and the approach offer a very scenic and beautiful setting hard to find in most other places of the world.
Komodo is a growing tourist destination with new hotels and resorts popping up constantly. It is probably most famous for being the natural habitat of the world's largest lizard: the Komodo dragon.
• Detailed airport area and buildings based on an aerial image from mid-2019
• 
Detailed ground pavements/markings
• 
High-resolution PBR materials and textures
• 
Dynamic night-lighting
• 
Custom local-style surrounding buildings
• 
Animated passengers in the terminal
• 
Optimized for performance
Available since
2021-10-21
Version
v1.0.0
Supported Simulators
for Microsoft Flight Simulator
Supported Operating System
Windows
Installation Method
Contrail App
Download Size
1.06 GB
Installation Size
1.6 GB
Reviews
Reviews can be written and liked using the
Contrail App
Review by Mark Fahey
for Microsoft Flight Simulator
I flew into and out of this airport (in real life) last moth. This scenery is spot on, with the exception that the terminal has now installed some aerobridges. 5 Stars!