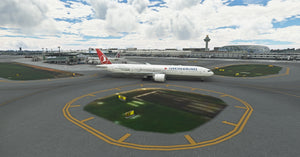 Designed For
Microsoft Flight Simulator
Welcome to Singapore Changi International Airport. The major civilian airport that serves Singapore and is one of the largest transportation hubs in Asia. As one of the world's busiest airports by international passengers and cargo traffic, it is currently rated the World's Best Airport.
This handcrafted Airport made with passion is full of visual improvements and custom made objects to represent Singapore Changi as real as possible. All custom objects are built and designs based on real life data.
Massive custom built, handcrafted Changi Airport built for MSFS
Full PBR on all airport objects
Detailed and crisp textures on all terminals
Fully modeled terminal 1, 2, 3, 4, Cargo area and Maintenance Areas
Full HDR stunning night lighting across the airport
Custom static aircraft and strategically placed for best online flying experience like VATSIM
Bridge Taxiway, Animated Skytrain and Radars
Stunning Jewel exterioir with minimal interior
Custom Taxiway signs and markings based on real life data
Custom detailed ground textures
LOD Optimized for best performance
VATSIM ready, all airport data up-to-date
Custom and animated jetways specifically made for Changi Airport
FREE future updates!!
Available since
2023-10-18
Version
v1.6.0
Supported Simulators
for Microsoft Flight Simulator
Supported Operating System
Windows
Installation Method
Contrail App
Download Size
532.5 MB
Installation Size
1.18 GB