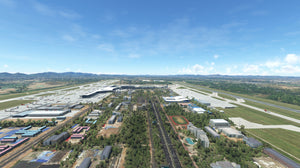 Nanjing Lukou International Airport (IATA: NKG, ICAO: ZSNJ) is the main airport serving Nanjing (the capital of Jiangsu Province) and a major airport serving the Yangtze River Delta area.
As of 2020, it is the 12th busiest civil airport in China, Dropping one place from 2019 after being overtaken by Zhengzhou Xinzheng International Airport.
It is located in the suburban Jiangning District, over 35 km (22 mi) south of the city center, and is connected to Nanjing and neighboring towns by expressways.
Phase I of the Ninggao Intercity Line and Line S1 of the Nanjing Metro link the airport with Nanjing South railway station.
Nanjing is the hub for China Eastern Airlines' Jiangsu Company, Shenzhen Airlines' Jiangsu branch and Juneyao Air's Jiangsu branch.
China Southern Airlines as well operates a considerable number of flights there.
Despite not operating as much flights as some other airlines, Beijing Capital Airlines and Air Travel also set up bases in Nanjing.
anjing is the main base for China Postal Airlines, with pure cargo service to all major cities in China, handling express mail and cargo transportation for China Post.
• PBR Textures
• 
Animated Jetways.
• 
Dynamic Lights
• 
Manually planed viecles in airport
• 
Real Ground Markings
Available since
2022-08-31
Version
v1.0.0
Supported Simulators
for Microsoft Flight Simulator
Supported Operating System
Windows
Installation Method
Contrail App
Download Size
830.2 MB
Installation Size
3.03 GB